Is PR the right career for you?
After A-Level and GCSE results day this week, many young people may be considering a career in public relations. To help you consider if PR is the right career for you, some of the High-Rise team got together to answer a few of the most common questions related to our careers. 
How did you end up in your current role at High Rise?
High-Rise's Account Executive, Vicki Phillips shared: "I graduated from University last year and straight away went into job hunting, desperate to begin my career. What I should have done was figure out which industry was right for me. 
"Initially, I was searching for all types of creative jobs from journalism, marketing, publishing and PR to opportunities within the third sector. I would definitely say PR jobs were in limited supply, which led me to wider my search, but I know now if I got a job in any of these other industries it wouldn't have been the right fit for me. 
"In October I spotted the job at High-Rise, straight away after reading the advert and researching the company I knew this was the perfect fit for me. At High-Rise I had an opportunity to work with purposeful organisations and use my skills in researching, communicating and writing to the best of my ability. I've not looked back since!" 
Laura Thomas, our Account Manager added: "During the Summer of my second year at University, I took on a three-month internship with a PR agency in London. The shift from student life into working life was hard at first, but I was hooked on PR. I love writing so I was all for any kind of content creation, but also discovered a passion for working with journalists. 
"A few months after my degree ended the following year, I moved up to Manchester and started my first full-time role at a B2B technology PR Agency in the Northern Quarter. Here, I learnt how to manage my workload, communicate effectively with clients and discipline my writing skills. After a year and a half with this agency, I decided I wanted to try something new, so, after an initial period of freelancing due to the pandemic, I met Helen and joined High-Rise as an Account Manager."
Our newest member of the team, Sarah Tulley, shares her career journey before becoming appointed as Account Manager: "I started my career as an admin assistant at a PR agency. This gave me a foot in the door and a good insight into working in the industry before I started a role with the B2B team. 
"I then worked in-house for a number of years, predominately at the BBC. This enabled me to focus on one brand and immerse myself in an industry that interests me. Agency life tends to be faster-paced, with more opportunities for career progression, and more variety, as you can work across a diverse range of clients. There are pros and cons to both, so it's a case of figuring out what your working style and career priorities are. If you're unsure, then try to experience both the in-house and agency sides, if you can.   
"After living overseas for a while, I returned to the UK and started freelancing. This is another added benefit of working in PR, as it's an industry that allows you to be your own boss if you want to be. However, after working on a freelance basis with High-Rise, I realised I'd found such a lovely team that I wanted to work here permanently!" 
What skills do you think are most useful for the PR industry?

 
Laura: "There's a lot! I would say creativity is a big one – it's useful to be able to think outside the box sometimes. And also a general love for media and news. If you're not someone who at least skims the news once a day to see what's going on in the world (and there's a lot right now), then you'll soon find yourself feeling out of your depth. 
Finally, and this definitely wasn't one that I came into the industry with, but confidence. Confidence to push back if you think an idea of yours needs to be considered, confidence to pick up the phone and tell a journalist exactly why they should be covering your story and confidence in your peers to share tasks, work together and win as a team."
Sarah: "Creative thinking, attention to detail, relationship building and strong writing skills are all important for a career in PR. The ability to remain calm under pressure is very helpful too!"
Vicki: "Written and verbal communication, organisation, time-management and teamwork were all obvious skills I considered were necessary for PR, but one of the skills I would say is important to have is a passion to learn. PR is an ever-changing industry, so it's important to keep up to date with these new methods and be happy to learn and grow. Also, working in an agency, you will often work with clients from various industries. One day I can be working in the financial sector to the next in the third sector – you have to have a passion to learn to be able to understand and provide the best work for your clients." 
What is your favourite thing about working within PR?
Sarah: "The variety.  Some days will be spent writing and issuing a press release, media monitoring and pitching for news coverage, whilst others might be organising a press launch, media training a client or dealing with a reputation issue. No two days are the same and I love the challenge of having to wear lots of different hats. "
Laura: "The people! Everyone from my clients and fellow team members (past and present), to journalists and other PR professionals – the people I get to speak to impress and inspire me every single day."
Vicki: "Making a difference. Whether that be helping a charity gain funding, raising a client's profile, or working on campaigns, these all give my job a purpose by knowing I am impacting someone in a positive way."  
And finally – if you could give one piece of advice to young people wanting to start out in PR, what would it be? 
Sarah: "It might sound obvious, but it's important to be aware of the news agenda. Consume lots of media and be social media savvy. Reading the likes of PRWeek and The Drum will help keep you updated with the latest industry trends and hot topics, like brand reputation issues." 
Laura: "Get experience. In my opinion, PR is one of those industries where those working as an intern or on work placement get thrown into the mix of everything so it's a great way to A, learn if it's an industry you really want to be in and why, and B, make your CV and interview stand out. 
There's also so many different areas of PR you can work in – for example, on the agency side you can specialise in working for a particular industry like I did in my first role, or you can look at roles in-house where you work within the dedicated PR team of a company or organisation. But you won't know what you like until you try!"
Vicki: "Think about your interests – if you enjoying communication, writing, being creative and working in a fast-paced environment, PR might be for you! If you can't imagine using these skills day in and day out, then it might not be the right career path to follow. 
"There are so many roles within PR, in house, agency work, working with B2B clients or B2C, working for tech companies, third sector organisations, multiple million-pound businesses. Figure out what your passion is in and it will help you find your niche within PR."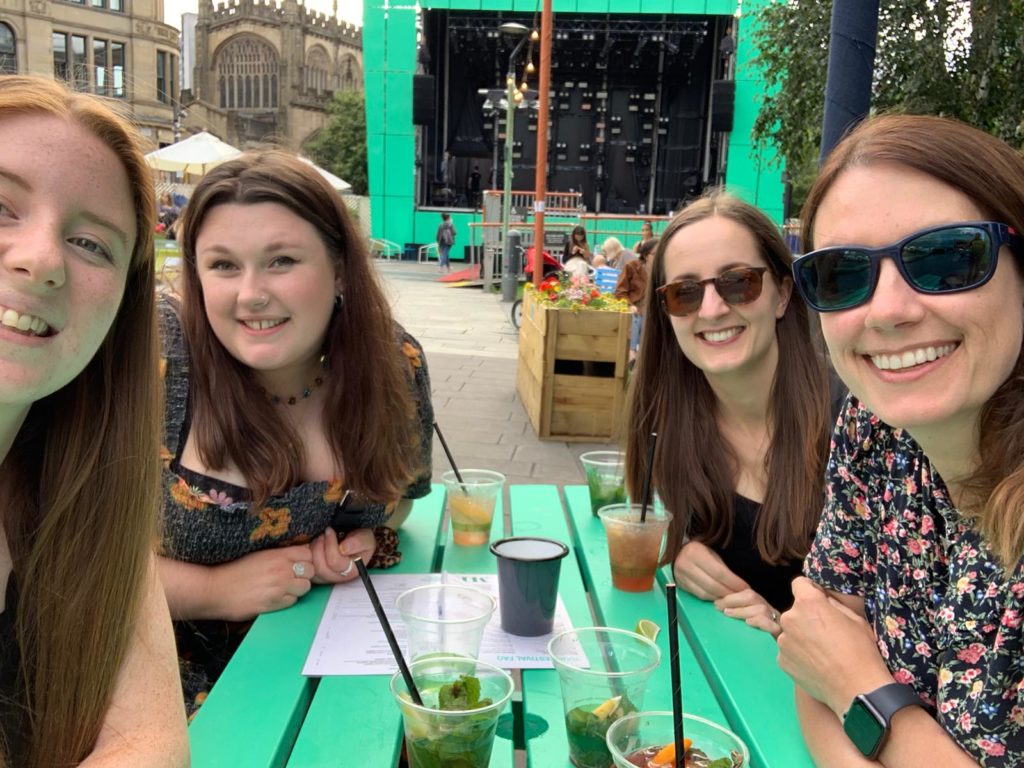 If you are looking to take your first step into PR and would like to work with purposeful clients that are changing their communities for the better, we would love to hear from you! Send your CV with a covering letter telling us more about yourself to christine@highrisecommunications.co.uk