Our top tips when launching a passionate and purposeful rebrand
Our client – leading used car retailer, CarShop – recently turned to us with news that it was relaunching itself onto the marketplace under a completely new and transformed brand identity.
"The home of good carma"
We loved it. For a long time, the reputation of the car sales industry has been stuck in an age long gone; one where pushy sales techniques, a very male-dominated workforce and intimidating showrooms are still some of the first things that come to mind for most people. But we knew CarShop to be different.
It's a company that really cares (cheesy, but true). While it might deal in the business of cars, it thrives in the business of people.
In the time that we've been working with them, CarShop has given back in any way it can. From donating nearly £40,000 to deserving local charities and national charity, Global Make Some Noise, through its pink coin scheme under the CarShop Cares programme this year, to raising nearly £30,000 so that a colleague's son who lives with debilitating cerebral palsy can receive a life-changing operation and throwing all of its support behind a world record breaking rugby game that commemorated a local Liverpool lad who passed away at an early age and left behind a young family.
It is so much more than just a car retailer, and it finally had a brand that reflected that.
But what next? Once consumer research has been undertaken, the strategy has been signed off and colleagues have been briefed – what are the next steps to take and how can PR help you to get the word out there?
We've put together a few initial tips to help get you started…
First, make sure you confirm a timeframe
You've spent months, maybe even years, thinking about this new brand strategy and how it will reflect a more ambitious, more mature version of your company. Now isn't the time to rush and fall at the final hurdle.
We often find that a staggered approach is best. Start with the updating of all internal marketing materials and colleague-only platforms so that any issues or technical glitches can be resolved quickly, easily and without too much pressure. This way, the updating of your brand's consumer-facing touchpoints will run as smoothly as possible.
Also, if you are planning on sending out a press release, take care not to jump the gun on other activity. This should come before any explainer blogs are published and before any social media posts go out. Otherwise, you could be giving journalists the impression that the story has already been covered and – well – shooting yourself in the metaphorical foot.
Then, think about whether you could get creative
There might be an opportunity to grab attention in more ways than one with a brand relaunch. Hosting a themed event, pushing out an engaging advertising campaign or organising a PR stunt can all be ways to engage customers – both existing and new.
One stunt that caught our attention recently was when the London Flower Show decided to take its spectacular displays to the streets – giving some of London's major landmarks a floral makeover in the hope of getting people talking about the event and simply adding a bit more joy to a year that's been hard for so many.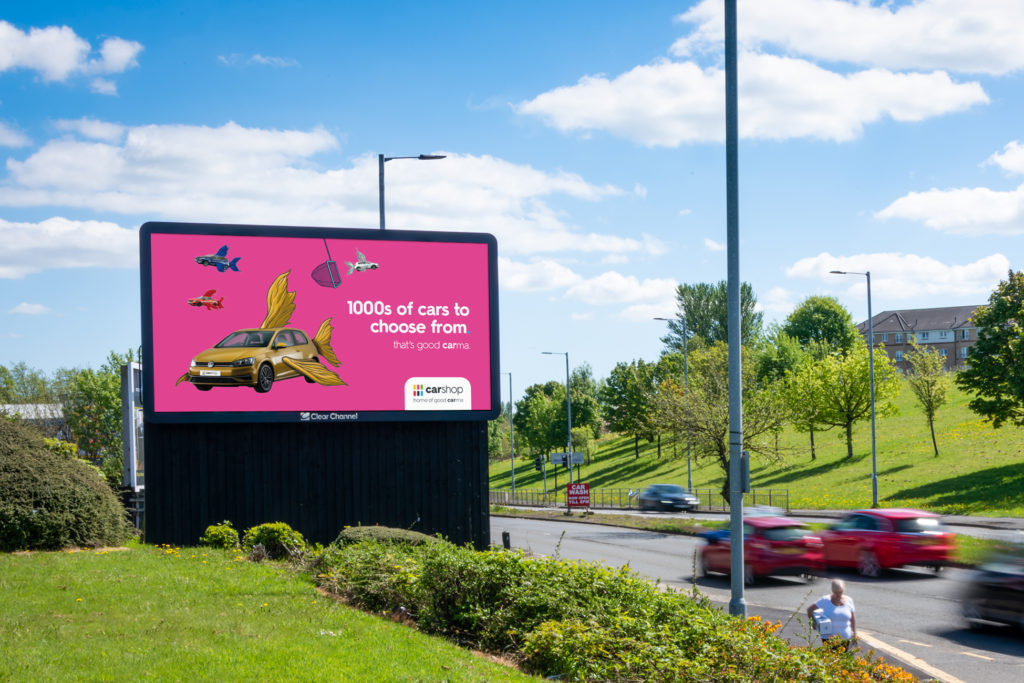 Lastly, live up to the expectations
You've launched your rebrand, announced it to the press and things are going well – but it's not the time to clap your hands and say job done.
The best companies are known for their brand because they reflect this in every piece of communication they share – from their slogan and blog copy, to their PR and social posts. Without this consistency, key messages and the version of themselves that they are trying to show would just get lost.
The values reflected in the new brand identity also need to be upheld from this point onwards. There's no point saying that a key element of your new brand is a sense of community, when you're not proactively thinking about ways you can create, nurture or benefit a community of people every day.
So, don't stop now – because while the relaunch itself is over, the best of your organisation's potential is yet to come.
If you're thinking about relaunching your brand and looking for a PR and Communications agency to help you make a splash, then get in touch – we'd love to speak to you about the ways we could help.