The third People's Powerhouse convention took place in Sunderland, as part of the movement's mission to shine a light on more of the North's fantastic people and places.
We have now provided communications support for three People's Powerhouse conventions and we are very proud to have worked closely with the movement since its inception.
The movement's third convention took place at Sunderland's Beacon Of Light – and shone a spotlight on the importance of arts and culture.
The value of arts and culture in creating strong and thriving communities can so easily get overlooked – which feels totally wrong. So we were pleased to secure BBC Radio Newcastle coverage including highlighting how young musician Faye Fantarrow had played an important role in welcoming people to the event.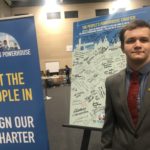 High-Rise provided event and media support for the 2019 People's Powerhouse convention in Sunderland
Introducing Tortoise to the People's Powerhouse
At High-Rise we're big fans (and readers) of Tortoise and its approach to news-gathering which takes more time to explore and consider the issues rather than just getting a few soundbites and moving on. We put Tortoise and the People's Powerhouse in touch as we thought it makes total sense – both have an interest in hearing from, and connecting, ordinary people outside the London media bubble. Tortoise held two think-ins at the Sunderland convention; and this will be a partnership that now continues into the future.
People's Powerhouse media coverage
The response from media outlets was brilliant, with BBC Radio Newcastle, ITV Tyne Tees, Tortoise and the Sunderland Echo all there on the day.
With the buzz surrounding the upcoming election and the leaders' debate between Jeremy Corbyn and Boris Johnson airing later that evening, we were pleased with the amount of coverage gained on such a busy news day.
The MJ also ran a comment piece by Tracy Fishwick and the FT also wrote about the People's Powerhouse.
BBC Radio Newcastle mentioned The People's Powerhouse on both their drivetime show on 19 November, followed by another feature on their 20 November breakfast show. Meanwhile, BBC Radio Lancashire featured an interview with Tracy Fishwick and some young people who attended the Convention which ran a few days after the event.
The expertise and knowledge that High-Rise provide is incredibly valuable, and is applied with enthusiasm, creativity, insight and dedication. Don't hesitate to work with High-Rise.
Tracy Fishwick
People's Powerhouse and Transform Lives Company